Our Flexlam PCB is an alternative to the Rigid-Flex PCB if the bending cycles are limited. This "one-time-bending" is given during the installation process or in case of service work. All components and plugs are placed on the rigid part, which is connected unsolvable with the flexible part. For cost minimization, the flexible layers are laid on the outside. For covering the flexible areas, we provide cover layers and flexible lacquer.
Material parameters
copper thickness 18 mic, 35 mic or 70 mic
various copper thicknesses in combination available
carrier material 125 mic FR4
rigid part based on FR4
all current surfaces are available
Your advantages at a glance
more cost-effective than polyimide systems
proven FR4 system
low z-Axis-Expansion
conventional desmear- and metallization processes
high reliability and long service life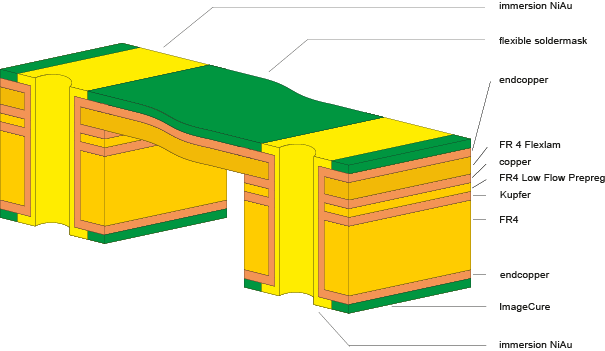 * Other varia­ti­ons on demand. Please con­tact us!